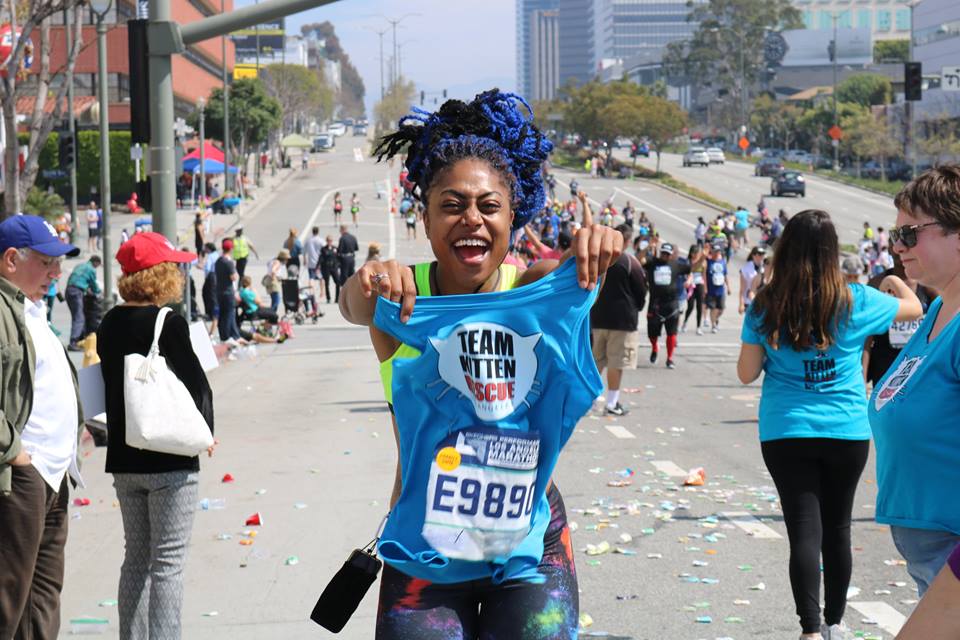 05 Oct

Join Kitten Rescue in the 2019 LA Marathon

It's that time of year again! Registration is officially open for the 2019 LA Marathon, so you can sign up today to run with Team Kitten Rescue. The LA Marathon is Kitten Rescue's largest fundraiser of the year. It plays an essential role in allowing us to continue saving homeless cats and kittens. Last year, our 74 runners raised a record-breaking $100,000, therefore allowing us to save hundreds of animals in need.

The 2019 LA Marathon includes three separate races. Team members can sign up to run, walk, or jog in whichever race you want.
The LA Big 5K – March 23, 2019
Participants of all ages are welcome to join us for this fun morning, as we walk or run around scenic Elysian Park. Team members have the option to have their face painted like a kitty. Don't forget your kitty ears!
The Charity Challenge – March 24, 2019
Not ready to run a full marathon? Run or walk the second half of the Marathon in the Charity Challenge from Hollywood to Santa Monica! This half marathon experience is only available to Official Charities of The Skechers Performance Los Angeles Marathon — such as Kitten Rescue — and spots are limited!
The Los Angeles Marathon – March 24, 2019
The Skechers Performance Los Angeles Marathon takes runners on a 26.2 mile course through the beautiful and culturally diverse city of Los Angeles. The full marathon starts at Dodger Stadium and finishes at the Santa Monica Pier.
Participating in one of the 2019 LA Marathon races is an amazing experience, and even more, joining Team Kitten Rescue provides you lots of with exciting perks! Whichever race you choose, you'll be doing an amazing thing on behalf of animals in need. You'll also be joining a community of supportive friends and compassionate animal lovers working together to achieve a common goal.
For more info, check out our LA Marathon event page!
DONATE TO SUPPORT THE TEAM!