01 Feb

Thumper's Story

Thumper came to Kitten Rescue in April 2009 by way of a good samaritan in Long Beach, who had found Thumper and her two siblings abandoned in a box at the harbor. She noticed that there was something wrong with Thumper — she couldn't walk like her two brothers and she dragged herself around by her front legs. Kitten Rescue agreed to take the kittens and we brought Thumper to one of our partner vets to find out what was wrong with her legs.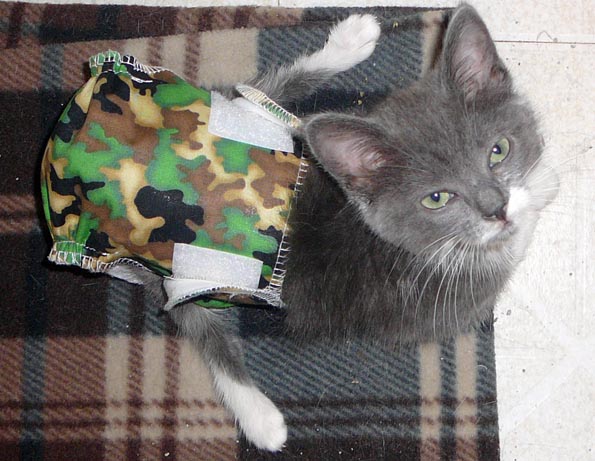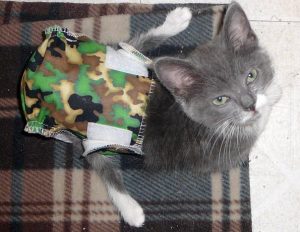 A Kitten Rescue volunteer agreed to foster Thumper, and brought her home to introduce her to the other animals in the house. She quickly became friends with all of them and was an object of curiosity to the resident dog.
Getting her over her urinary tract infection was easy enough. Coming up with a strategy to manage her incontinence, however, was more challenging! The solution seemed obvious: she needed to wear little kitty diapers. The trick was finding diapers small enough to fit a one pound kitten. One of our veterinarians suggested we look at a line of cloth diapers made to fit dolls, made apparently for extremely hard-core cloth-diaper enthusiasts. Thumper's foster parents ordered some of the doll-sized "Happy Heinys" diapers. They not only fit perfectly, they looked fabulous on her!
The diapers worked perfectly. With several diaper changes each day, frequent baths and a close eye on her health to make sure she doesn't pick up another urinary tract infection, Thumper's existence is a happy and healthy one. She has truly thrived in her foster home. She doesn't know that she's different from the others, and is as playful and affectionate as any other kitten.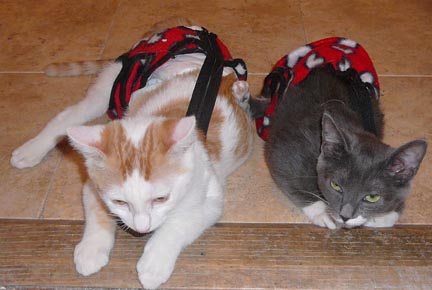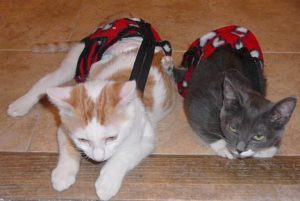 It didn't take long for Thumper to outgrow her doll-sized Happy Heinys diapers. Fortunately, another Kitten Rescue volunteer is a master seamstress and has designed a series of diapers for Thumper as she has grown. She now also has an incontinent kitty friend — an orange and white kitten named Forrest, whose back legs are paralyzed from an apparent crushing injury suffered as a baby. Forrest and Thumper are diaper buddies!
Thumper's story illustrates the dedication of Kitten Rescue and its network of volunteer foster parents towards helping out the less fortunate animals of Los Angeles. Any veterinarian who sees an animal with a condition like Thumper's invariably suggests euthanasia, as the animal's future health prospects might appear uncertain and the amount of time and effort to manage a permanently incontinent animal case is thought to be too much for most people. But Kitten Rescue's volunteers are not like most people. As a result, a very delightful, unique kitten has been given an opportunity for a long and fulfilling life.